So
last Friday night
, we made a double recipe of the Sauteed Chicken Breasts with Balsamic Pan Sauce. We each had a breast that night, which left 6 leftover breasts. This was part of my master plan to pair the same balsamic chicken with....
Butternut Squash Risotto
. But since they each would take awhile, I didn't want to cook them both on the same night. So we made boxed couscous for the first night, and paired the leftovers with the Butternut Squash Risotto.
One of the things I love most about this recipe is all the wonderful colors. Bright orange squash, bright green sage, bright red [chicken] bacon. So pretty!
There's the finished product- creamy, yellow butternut squash risotto. SO GOOD!
Home Cooking Challenge
. And it is definitely a keeper. Only thing is that my local grocery store doesn't carry Arborio rice. I have to stock up when I go into the city to the fancy grocery store so I buy 2-3 packs at a time.
For this week, I started off with a Meatless Monday
veggie lasagna from Runners World
. I admit I was a little skeptical of cream cheese in a lasagna, but it was tangy and creamy and delicious. Definitely recommend this one!
Yummy layers of gooey, cheesy, veggie goodness!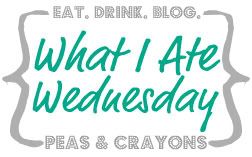 Thanks for joining me on this...