Passover ended Saturday night, so I had my first deliciously bready meal when I woke up for work Saturday night. I also dug into the boxes in my cabinet for goodies like pita chips and rolled oats.
But I consider that passover really ended for me Tuesday night when I finally went to the grocery store to buy perishable chametz staples like bread, hummus, and this breakfast of champions:
Around midnight I had another snack, a portable instant oatmeal. They have a hot water tap at work that I use for tea so I poured some in my oatmeal cup.
I filled to the line, like I was told, and let it sit for a few minutes. It was a little watery for my taste but otherwise delicious. I love apples and cranberries and walnuts. Here are the nutrition stats:
Not too shabby for a console breakfast that requires no cleanup!
Around 2am I was getting really cold so I made a hot beverage. I love the caffeine content of chai (a must on the overnight shift!), but the flavor is a little overwhelming so I add a package of hot cocoa. I stole this idea from what folks call "MCC Mocha," a packet of hot chocolate made with coffee instead of tea. I don't like coffee at all, so I don't do that. But the tea gives the cocoa a stronger, cinnamon-y taste that is pretty delicious.
It warmed me right up, so much I even turned off my space heater for a couple hours.
At 5am I warmed up my dinner. Leftover Mexican Lasagna. It was Dan's idea and I can't find the recipe... but it was pretty good! A little liquidy, might try with no bake noodles to let them absorb some of that juice.
When I got home I ate another breakfast (or dinner) of champions: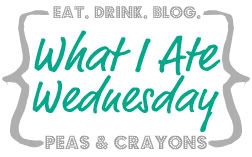 Happy What I Ate Wednesday! Join the party: